Vacation Trip:
Public health restrictions caused by the COVID-19 pandemic have led to cancelled festivals, concerts and other events. There are many vacations and large gatherings that have been limited or put on hold. But now many people are considering, visiting relatives or friends in the coming weeks with the holidays approaching. At the same time, cases of COVID-19 are not reducing and we are still in the middle of a pandemic. Knowing how to travel safely is very important during the COVID-19 pandemic because your safety is vital for the enjoyment of any holiday or vacation. So, it is better to consider COVID-19 rates at your destination before planning for a vacation.
RT-PCR test for your Holiday trip:
Following months of strict Covid-19 restrictions, some countries have started to relax travel restrictions subject to certain conditions; they will open their airspace to flights. At the same time, many travellers are required to take the RT-PCR test which is to be performed within a specific time frame before departure, and the rules on RT-PCR testing are constantly changing for countries as well as airlines.
Health Atmos will help you to organize your COVID-19 test before your travel and facilitate Lab walk-ins at a time convenient for you. You can also request a home collection service as per your requirement. All the labs partnered with us are ICMR approved Pan India. We will even try to accommodate your urgent requirements after discussing them with our lab partners. We will take care of your test while you make other travel arrangements.
Travel Recommendations by destination during COVID-19:
The CDC has implemented a colour code system for each country to assess the level of risk for COVID-19.
The Beige colour represents countries where travel is considered safe, while maroon, orange, amber and Grey colours represent countries where travel is not advised.
Returning from Beige list countries – If you are travelling from a country on the Beige List, you do not require self-isolation upon returning to your country, although pre-departure testing and day 2 arrival testing is still implemented.
Returning from Amber list countries – Non-vaccinated travellers holidaying to Amber List destinations are required to isolate themselves for 10-days at home upon returning to your country, following the pre-departure testing rules and you need to take 2 more RT-PCR tests on days 2 and 8 of quarantine.
Returning from Maroon, Orange and Grey list countries – If you are travelling from a country on the Maroon, Orange and Grey list you are required to self-isolate yourself upon returning to your country for 11-nights and take 2 more RT-PCR tests on days 2 and 8 of your quarantine.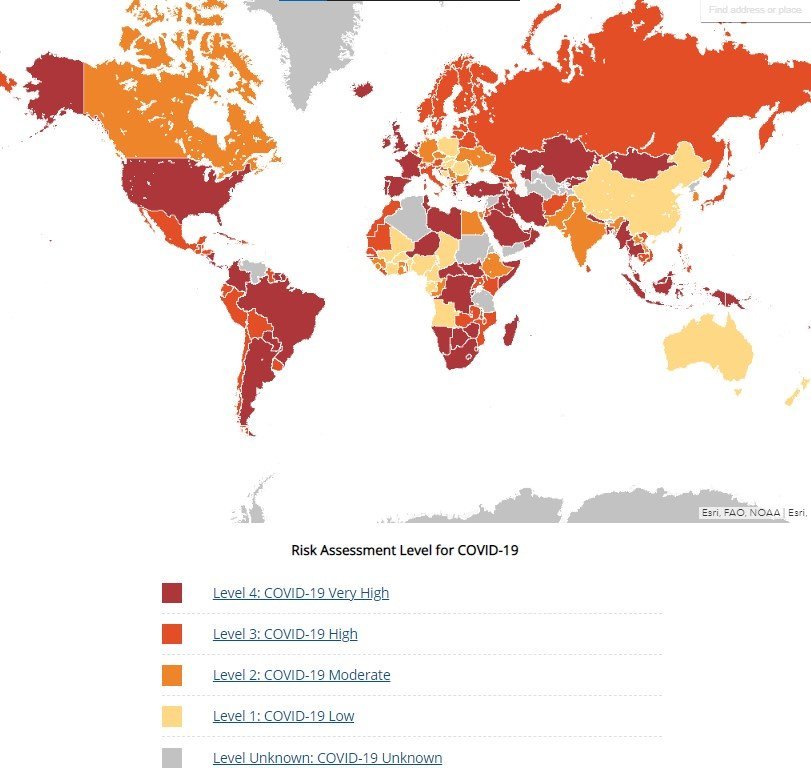 Image Courtesy: CDC website
How can I book my RT-PCR test before travel?
Fill in the following form or contact us at +919819080018 and to Book an RTPCR test. Make sure to fill in all details correctly and choose the time and date of your preference. We cover over 16+ countries and 25 states in India and are the largest aggregator for Covid RT-PCR tests in India.
Once we receive your request for the RT-PCR test, we will fix your appointment as per your preference. A covid sample collection agent will come to your house or office to collect your swab sample. We ensure your report is as per your destination country guidelines and send your soft copy within the time limit.
You can fill the Appointment form and choose Lab walk-in or Home collection as per your preference.
You will get a call to confirm your appointment.
After the sample is collected and tested, your report will be emailed to you.
Check out more valuable information on:
FAQ's about the RT PCR test before you travel | Health Atmos.
Top 6 Countries You Can Travel For A Vacation During COVID-19 – Health Atmos
Book Your RTPCR Test for Travel & Get Your Reports in 24 Hours
No need to go to labs for the test, samples will be collected at your Home.