Vacation Travel:
Travel during Covid has become difficult because of the prolonged pandemic and its uncertainties. Therefore, travel continues to be risky and complicated in many parts of the world. Some foreign countries are now opening to travelers', subject to certain conditions. However, those arriving will either have to provide a negative RT-PCR report or will be required to undergo quarantine there. The following is a list of countries that are safe to travel to during Covid.
1. American Samoa
Level 1: COVID-19 cases are at a Low Level and safe to travel during Covid.
Before the COVID pandemic, American Samoa didn't have many travellers in a year, except for those visiting for the day from cruise ships. But this U.S. Island is now becoming trendy, since U.S. citizens do not have many options to travel to, and COVID-19 is a concern in multiple hotspots.
American Samoa filled with natural beauty and Polynesian culture, it rewards its visitors with diving in its beautiful coral reefs teeming with wildlife, hiking on Mount Alava, the Soothing Two Dollar Beach, National park of American Samoa, etc. If you visit in September or October you can also enjoy watching humpback whales.
American Samoa also provides its visitors with a variety of land meat that is made using their traditional methods & cultural mixes such as the Palusami (Corned Beef in coconut milk), Okai'a (Raw fish in coconut cream with lemon), etc. American Samoa is a place safe to travel and let go of your stress and enjoy yourself with family, friends and loved ones.
How safe is it to visit American Samoa during Covid-19? – According to the CDC, American Samoa is one of the safest places on earth. As of today, this American territory has NO active cases and NO deaths.
Entry Requirements:
Entry restrictions are a bit strict. First, visitors must be cleared by the Samoan Ministry of Foreign Affairs. Then visitors must submit a negative COVID-19 test result and quarantine themselves for 15 days at a government-approved facility.
The Samoan government will pay for accommodation, breakfast and lunch for Samoan citizens only. Dinner will be at the visitor's expense. (Source).
2. Grenada
Level 1: COVID-19 cases are at a Low Level and safe to travel during Covid.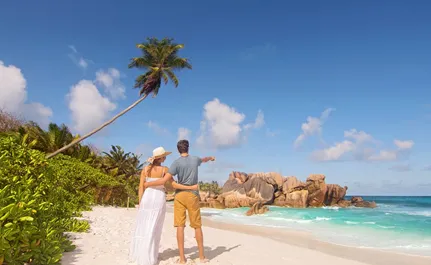 Grenada is a place that mixes nature, sun, relaxation and paradise beaches. If you are interested to take a stroll through historical streets & squares that dates back to the colonial British and French rule then St. George the capital of Grenada is the place you should visit. Grenada provides what you would expect from a Caribbean Island, the 200 years old authentic River Antoine Rum distillery, the soft white sand beach of Grand Anse, Waterfalls, Diving in its tropical waters you will find sunken ships, reefs & an Underwater Sculpture Park!!!!, hiking the Grand Etang National Park where you can enjoy the beautiful view of the mountains, tropical flowers, monkeys, lizards, mahogany trees, etc.
If you love chocolates then you will also find homegrown cocoa plantations from where Grenada Chocolate Company makes its chocolates from. Lastly, you haven't completely enjoyed the Caribbean Island experience of Grenda until you have visited the Gouyave Fish Friday, it is a festival that takes place as the name suggests on a Friday in a small village of Gouyave, where you will find all the local seafood fried with Caribbean spices!  
How safe is it to visit Grenada during Covid-19? 
According to the CDC, Grenada is classified among the safest places on earth. This small island only has 1 active case and 1 death.
Entry Requirements:
Travellers need to bring a negative PCR test taken within 72 hours of departure, download the country's contact tracing app and complete a travel authorization form through Grenada's Covid19 government website.
After the national curfew was lifted, visitors are now allowed to move freely around the country. Social distancing measures and wearing a face mask are still mandatory in crowded places or closed spaces.
Book Your RTPCR Test for Travel & Get Your Reports on Time for Travel
No need to go to labs for the test, samples will be collected at your Home!
3. Poland
Level 1: COVID-19 cases are at a Low Level and safe to travel during Covid.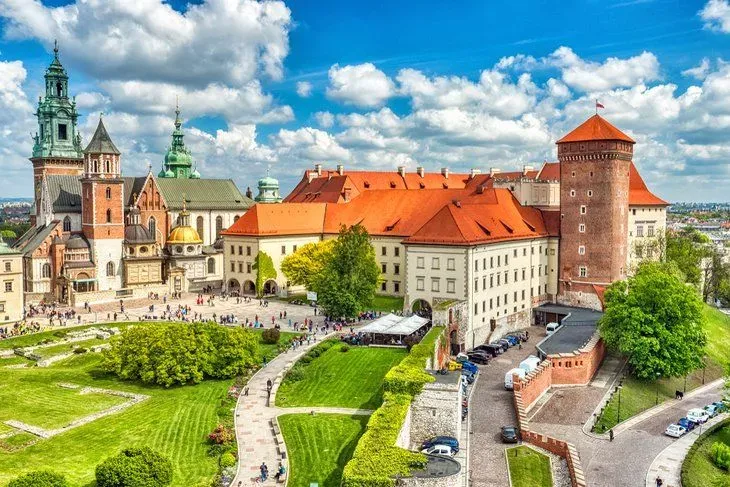 Before the COVID-19 pandemic Poland was not a noted holiday destination, but with options reduced seasoned travellers have started to give it a try and most are impressed by how much this country has to offer. Just to start with, this country has about 10 unique UNESCO World Heritage Sites such as the Białowieża Forest.
If you are visiting Poland or have considered doing so then you should start from a famous social hub that many travellers visit, the Wonderful Main Market Square in Krakow which is the largest medieval market in Europe. Then comes the Krakow Old Town which just screams Renaissance with its beautiful St Mary Basilica and artsy cafes and bars. The Royal Castle located in the Old Town Castle Square just shows how the polish royalty used to live between the 16th and 18th centuries. If you want something more modern yet historic then you can visit the Museum Of The History Of Polish Jews a museum that stores a lot of cultural history of polish jews. Poland is a new tourist destination that is rising in popularity that you should visit.
How safe is it to visit Poland during Covid-19?
Very safe according to the CDC. The country has reported NO ACTIVE COVID-19 CASES.
Entry Requirements:
People who are fully vaccinated with EU-approved vaccination are exempted from quarantine on arrival.
Proof of vaccination.
Travellers need to bring a negative PCR test.
4. Romania
Level 1: COVID-19 cases are at a Low Level and safe to travel during Covid.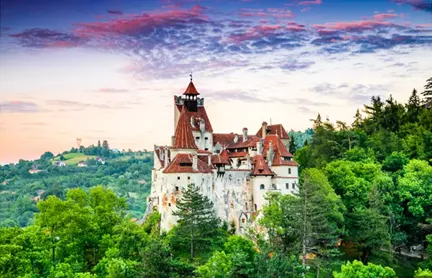 Romania not only is the most diverse country in the European Union but also one of the safest places to visit as of now. Romania has snow-capped mountains, green hills, vineyards, beaches, ancient monasteries and castles. Here are some places that you can visit in Romania:
Alexandru Borza Botanic Gardens: This botanical garden located in the Cluj-Napoca was founded in 1872, covering about 35 acres of land and over 10000 plants. It also has a Japanese garden!
Hiking Mount Tampa: Mount Tampa is a small mountain with a height of 1000m located in Brasov. From the top, you get to see the beautiful view of the whole city, It also has a huge sign that says 'Brasov' just like the Hollywood sign in L.A.
Danube Delta: It is the second-largest delta in Europe and is a UNESCO world heritage site. It offers a lot of exciting things to see from surreal hiking adventures to over 300+ species of migratory birds. The Danube delta crosses over 10 countries and ends up draining in the Black Sea
Peles Castle: This castle was constructed as a getaway spot for King Carol I in the 1870s. It has a lot of antique items stored which includes around 4000 armours. It was also the first castle in Europe to have electricity.
Maramures: This is a medieval region of Romania that thrives in Traditional culture, local music, hand made wooden gates, unique cemeteries with funny quotes written on them, etc.
Pssst! Start from Cluj-Napoca as it provides cheap transport via air with tickets costing as low as $15. 
How safe is it to visit Romania during Covid-19?
Romania is one of the safest places on earth, according to the CDC.
Entry Requirements:
Proof of vaccination
EU visitors arriving from a red or yellow zone should quarantine for 14 days. (You can see the red, yellow and green zones here)
Non-EU travellers must quarantine for 14 days.
A negative COVID-19 test is not required to enter Romania.
5. Slovakia
Level 1: COVID-19 cases are at a Low Level and safe to travel during Covid.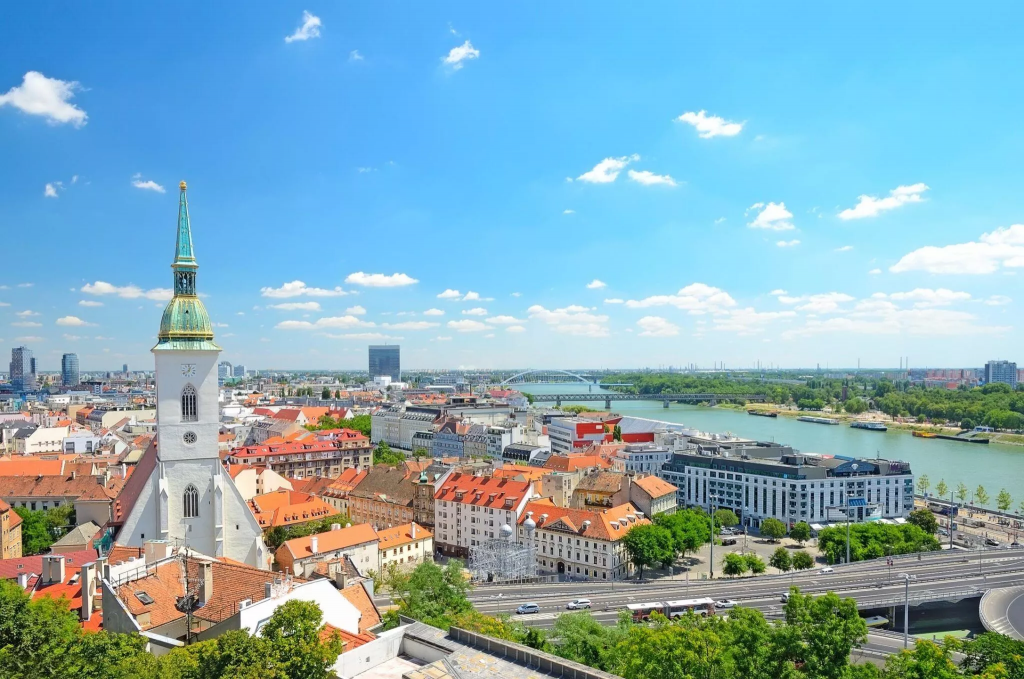 Slovakia offers a unique historical experience with cultural attractions, great local food, and endless opportunities for outdoor adventures.
Some of the places that you can visit in Slovakia are:
Bratislava: It is a badger sett of cobbled streets, low arches and tiny squares. It's small enough to explore in a day but big enough to hold your interest for a long weekend.
Banská Štiavnica: A UNESCO-protected medieval mining town in a lunar landscape of dead volcanoes.
High Tatras: A decent mountain range in Central Europe that has long been the site of enthusiastic skiing, hiking and sonnet-writing.
Spiš region: This wild and rocky region is home to medieval mammoth Spiš Castle and the twelfth-century walled town of Levoča.
Slovakian cuisine is a mixture of Hungarian, polish & Ukrainian cuisines consisting of potato, pig & cabbage. You should definitely try the national dish of Slovakia Bryndzové halušky, which is dumplings served with bryndza and bacon. Desserts such as the strudel (apple or custard cheese), Rezance a type of sweet noodles with poppy seeds and butter or curd cheese and sugar, etc.
How safe is it to visit Slovakia during Covid-19?
While the world is reimposing COVID restrictions due to the Delta variant, Slovakia stands as one of the safest destinations worldwide to visit as of now, according to the CDC.
Entry Requirements:
Slovakia is opened for both vaccinated and unvaccinated visitors.
Fully vaccinated travellers do not need to present a negative COVID-19 test or to be quarantined. Travellers over 12 years of age will need to register at gov.sk/ehranica and present the registration at their port of entry.
Unvaccinated visitors must present a negative COVID-19 test and self-quarantine for 14 days upon the arrival.
6. Tahiti
Level 1: COVID-19 cases are at a Low Level and safe to travel during Covid.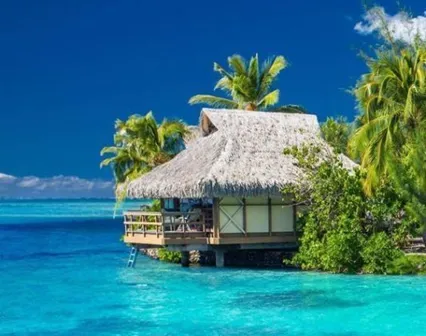 This piece of French paradise with its unique beaches, Black sand beaches, cascading waterfalls and overwater bungalows is open for tourism without quarantine restrictions for fully vaccinated visitors.
Bora Bora: Also known as the 'Pearl of the Pacific' is the most popular tourist destination in Tahiti famous for its overwater bungalows and beautiful lagoons a perfect place to enjoy with your beloved partner.
Moorea: The crystal blue lagoon, contrasting to the lush mountains and pineapple plantations… you can enjoy, relax & explore using quad bikes.  
Papeete: The capital of Tahiti is a busy harbour town where you will find the colourful Market, luxury liners, etc.
How safe is it to visit Tahiti during Covid-19?
As of now, Tahiti is one of the safest places to visit in the world. The CDC has recently ranked it as Level-1 risk, which means the COVID –19 cases are very low.
Entry Requirements:
A registration receipt from the ETIS should be completed within 30-6 days before departure
A negative RT-PCR test must be taken within 72 hours before departure.
Vaccinated Travelers should submit a Vaccine certificate
Unvaccinated travelers may also need to submit a boarding authorization issued by the High Commissioner showing their compelling reasons to travel. 
**Please check the Country-wise travel guidelines before you plan your travel. 
You can
book your health checkup
by contacting Health Atmos. We cover all states in India and 25+ countries globally. You can choose a home collection service or walk-in appointment at a lab near you. We will be happy to be at your service. Stay Healthy! Stay Safe!