Dubai International Airport:
Dubai International Airport is an Aviation Hub in the whole world. There are some unique features about Dubai Airport that prove that this international airport is more than just a travel hub with shopping and leisure options.
1. Dubai Airport is more than 60 years old!
The most interesting fact of Dubai Airport is that it is over 60 years old. This airport started on 30th September, 1960 with a small terminal building and a sand runway that could only handle an aircraft with a capacity of 21 to 32 passengers. Initially, the tiny airport was mainly used as a refueling station but by 1970s, DXB Airport was fully renovated. At present, Dubai Airport has more than 100 airlines flying to over 220 airports in 214 cities across 94 countries. It surely connects the world!
2. Dubai airport is the fastest-growing aviation hub in the world
Dubai International airport beats the world record holder Malaysia with more than 200,000 new seats every year. In the year 2017, more than 87 million passengers have traveled through Dubai airport.
It provides modern infrastructure and services and handles connections between 260 destinations worldwide. It is a transit zone for more than 100 airlines whose terminals are equipped with modern facilities and the best lounges.
3. The Dubai Duty-free store is the biggest in the world
Dubai airport has the World's largest duty-free airport shopping center. Every year the airport smashes records of annual sales with approximately AED7 Billion!
The numerous Duty-free stores are situated across its Terminals. This provides a world-class shopping experience that will certainly keep you busy while waiting for your connecting flight. Shop till you drop!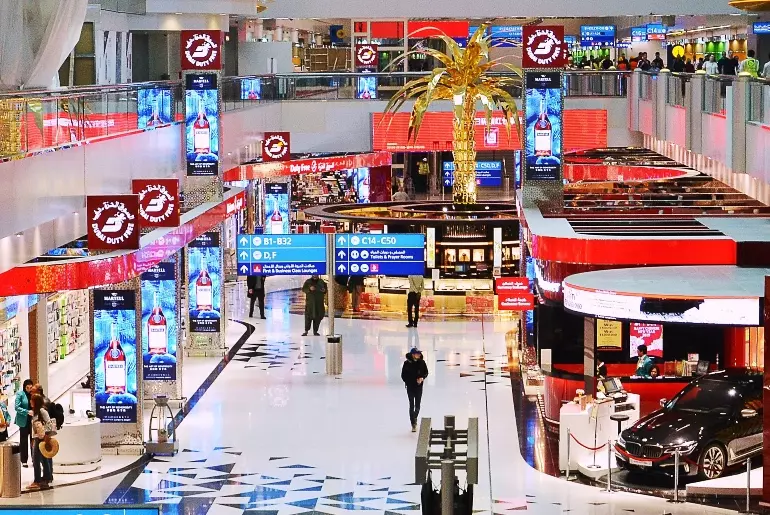 4. It is voted as "The Best Airport in the Middle East" multiple times
In just a few years, the airport has won numerous awards from reputed organizations. It has also acquired 'The Best Airport in the Middle East' multiple times. Gulf Business Awards, Frontier Awards, World Travel Awards, Business Traveller Middle East and many more organizations have awarded this title to the Dubai Airport. Take a bow!
5. The airport has its own five-star hotel inside its building
If you are exhausted from your long flight, you can get some rest in the Dubai International hotel. Luxury amenities are guaranteed. This hotel is situated in Terminal 1 and has the facilities of a swimming pool, restaurants, and a conference hall.
The hotel also provides tiny rooms in its Snooze Cube hotel. For a small amount of money (16 dollars) you can have free Wi-Fi, a shower and a few hours of sleep. And you don't have to worry that you will miss out on your connecting flight because the staff will wake you up if needed. Now that's personal service!
6. The Airport has its own Zen Gardens
Zen Gardens is located in Terminal 3, where you can relax in a natural environment before your next connecting flight. This is the most interesting facts about Dubai Airport which you should not miss.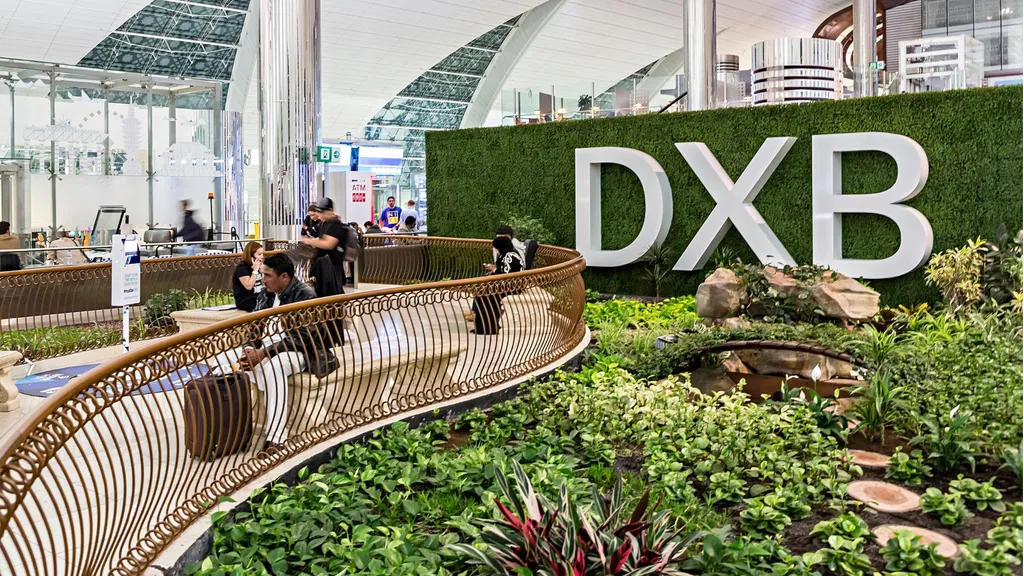 7. The Dubai Airport is spacious enough to welcome the A380 Aircrafts
The Concourse A of Terminal 3 is dedicated to the giant Airbus A380 aircraft which started in the year 2013. Imagine how big the airport is, to ensure the simultaneous boarding of more than 800 passengers. The airport has underground trains and tunnels to connect the Concourse A to the other parts of the building. That's grand!
8. The Airport provides various Entertainment facilities
The lounges in Dubai Airport offer the highest level of comfort. There is an outdoor swimming pool, gym, massage parlor, cinemas, restaurants, and many other entertainment spots. No doubt it is a popular transit option for tourists!
9. There are smart gates in DXB
Handling passenger traffic becomes a difficult task because of delays, cancellations or heavy air traffic. But Dubai airport handles this aspect like a boss.
The residents of the United Arab Emirates can pass through the smart gates with their Emirates ID. In this way, they will skip queues without spending your valuable time.
Dubai Airports continues to be fully committed to supporting the measures being taken to ensure the health and safety of all passengers.
We continue to urge you to stay safe.
For assistance in booking PCR for travel, get in touch with us at our email support@healthatmos.com or whatsapp to +91 919080018
Book your COVID-19 PCR TEST
Time for Test Result: within 24 hours
Required for: International Travel or other purpose includes a free travel certificate